2010 Event Photos
New Event Photos Being Added on the Fly!
2010 Season Photos
2009 Season Photos
2008 Season Photos
2007 Season Photos
2006 Season Photos
2005 Season Photos
2004 Season Photos

Now that the 2004 re-enacting season is over for the Incorporated Militia of Upper Canada, members now have time to work on their kit, drill and portrayals for the 2005 season! As well as drill and maintenance, our members have been involved in a few minor events. See the links below for images from these events...

If you'd like to see our past photos, please use the links below (which will open a new browser)...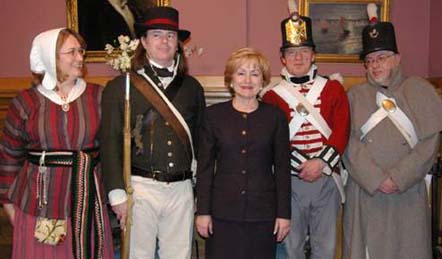 Above is a photo of (from left to right) Carol and Bruce Whittaker of Norfolk Militia (Heritage Regiment), Minister of Culture Madeline Meilleur, Bill Meakins and Tim Avery of IMUC. It was taken at the Ontario Historical Society Reception February 16, 2004.
---
This site is one of the Upper Canadian Heritage Websites. IMUC.ORG and this site are under the ownership of the Military Re-Enactment Society of Canada - The Incorporated Militia of Upper Canada (War of 1812 Re-Enactors) and all information, unless otherwise documented, is under the ownership of said group. If you wish to use any images or information on this page, please contact paulkelly@psican.org and make your request. Students and non-profit organizations wishing to use the information can do so without permission provided proper credit is given to the Military Re-Enactment Society of Canada and/or IMUC.ORG.
© 2004 - Military Re-Enactment Society of Canada

To contact the webmaster of this site, please e-mail him at matthew@psican.org


Can you assist keeping our site(s) online?
Please click here to help us out...